26 April 2023
On Packaged Living's 5th anniversary, the team discuss the journey so far and future plans with REACT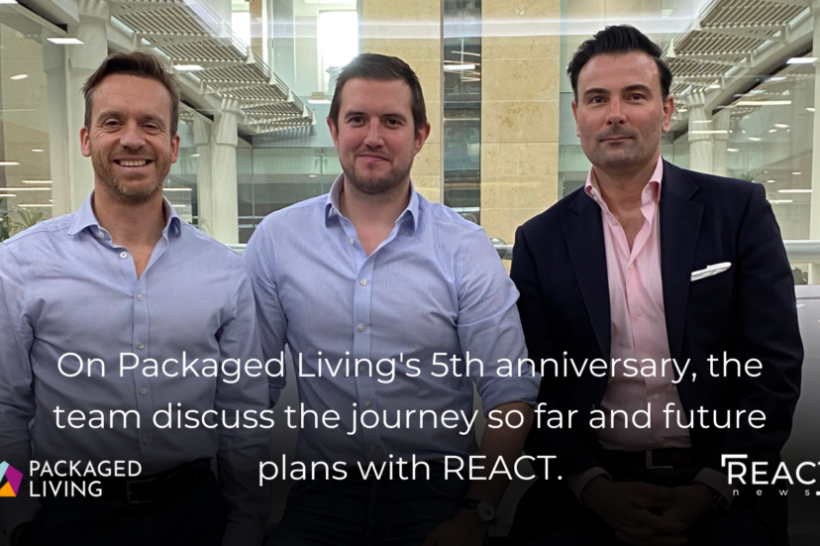 Having started out five years ago with a single site in Milton Keynes, Packaged Living has come a long way.
Today, the residential developer has more than 5,000 homes in development and operation and a business spanning site acquisition, planning, development, operations and advisory across multi-family and single-family housing.
Now that the building blocks of the business are firmly in place, it is planning to ramp up development and move into a new sector – co-living.
The business was founded by ex-Grainger director Ed Ellerington with backing from Fiera Real Estate, then Palmer Capital, in 2018, to fill a gap in the market for developers to meet growing demand for residential property from institutional investors.
Ellerington says: "We saw that there was a huge requirement in the UK five years ago for institutionally-friendly developers.
"We had all worked at institutions that were forward funding ostensibly SME developers, who were arguably not as sophisticated or as professional as perhaps the institution would like."
Booming market
There have been plenty of unexpected challenges to deal with over the past five years – not least the pandemic and more recently the sudden increase in funding costs – but the thesis has borne out.
Demand for residential property has grown rapidly, beyond even the level envisaged five years ago, partly because of the way the market has diversified. Back then build-to-rent was synonymous with city centre apartment blocks, whereas today it also encompasses suburban family housing, a sub-sector that Packaged Living entered in 2021 by teaming up with Aviva Investors.
More recently, strong rental growth and the defensive qualities of the sector have helped drive continued investment activity despite the wider market slowdown. Build-to-rent was one of the few bright spots in the investment market during the first quarter this year with £1.3bn changing hands, equivalent to a 16% share of total transaction volumes, according to Lambert Smith Hampton.
The strength of investor interest, paired with the fact that Packaged Living now has established partnerships with a number of institutions including Aviva and Affinius Capital, formerly USAA Real Estate, makes the developer confident it can accelerate its growth over the next five years.
Chief operating officer Mark Woodrow, another Grainger alumni, says: "We have more than 5,000 homes now, but this could be 15,000-20,000 homes in not a huge amount of time because of the scale of the opportunity, the number of homes required for the UK rental market and the capital deployment ambitions of institutions out there."
Co-living strategy
As well as building more homes under existing strategies, Packaged Living also plans to expand into new areas of the market. The next new venture will be in co-living, with an initial focus on London.
"Co-living has potential in other cities, but London is where it is really going to take off – it feels like the city is crying out for that kind of product," says Ellerington.
The details of Packaged Living's plans are yet to emerge, but it is likely to strike up a partnership with an investor similar to its tie-up with Affinius, whereby it will source sites, secure planning, develop and operate schemes.
"Co-living has potential in other cities, but London is where it is really going to take off" ED ELLERINGTON
As with other co-living schemes, there will be larger communal areas and additional amenities to make up for smaller unit sizes, but the developer plans to avoid compromising too much on the size of studios.
Ellerington says: "There is a lot of co-living that has a clustered student style and I don't think we are there. We are more at the end of offering good quality, almost hotel-like, space."
Packaged Living is optimistic that the timing of its move into co-living will prove fortuitous, thanks to falling land prices in the capital.
Opportunity knocks
Jonathon Ivory, the developer's chief investment officer, argues that the wider business is also in a position to capitalise on the weaker market, in part because it is debt-free, but also because of the way the downturn has created new opportunities.
Ivory says: "We are very well positioned to react positively and opportunistically. A good example would be within single-family housing, where I think one of the reasons it took so long for the sector to take off was because interest rates were near zero, Help to Buy was prevalent and housebuilders believed prices only went one way. Now housebuilders are increasingly motivated to seek other outlets with investors like us."
Unlike in the multi-family market – where Packaged Living develops schemes itself – in the single-family market it partners with housebuilders. This approach did come with some initial challenges.
Packaged Living and Aviva Investors insisted on an environmental specification that went above and beyond the typical standard in the for-sale market, with features including solar panels, battery storage, air source heat pumps, EV charging and recycling of rainwater and heat from showers.
Ivory says: "When we started engaging with housebuilders and insisting on some of these specifications, their response was lukewarm and it meant we didn't necessarily do all the deals we wanted to. But we stayed the course and I note that many of our competitors now have similar requirements. In some small way, we feel like we have contributed to moving the market in the right direction."
It is another example of how quickly the market has changed in recent years. Aside from the growing importance of ESG and the emergence of single-family housing, the pandemic has ushered in other changes and created new opportunities.
"In some small way, we feel like we have contributed to moving the market in the right direction" JONATHON IVORY
Co-working space is now a common feature in BTR schemes, including Packaged Living's, and the developer has been breathing new life into redundant retail space, working with Hammerson, for example, on redeveloping the former Debenhams store at Highcross in Leicester into homes for rent.
But the changes haven't put the developer off its stride. From a standing start five years ago, Packaged Living has more than 5,000 homes built or in development today – expect that number to be much higher for the next five years.