20 April 2023
Developers Break Ground at Grafton Way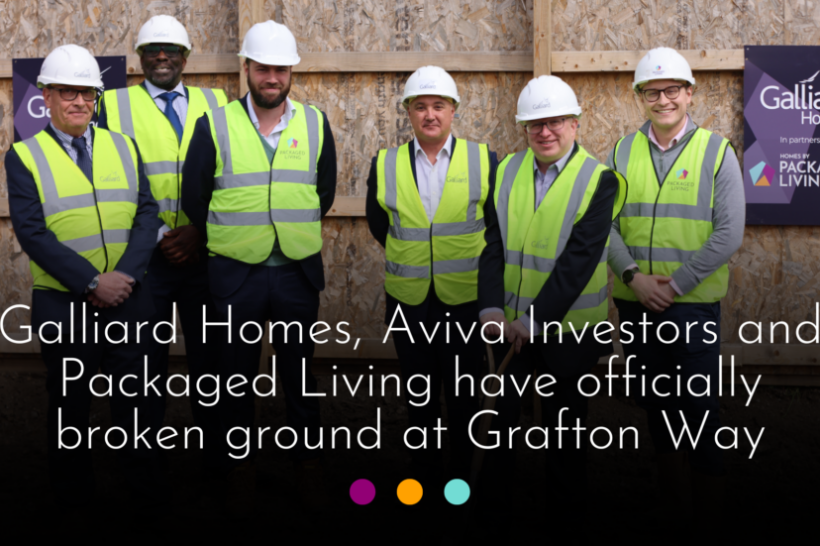 Packaged Living, Galliard Homes, and Aviva Investors have officially broken ground at Grafton Way on the banks of the River Orwell in Ipswich Town centre.
Spanning 7.66 acres along the north bank of the River Orwell and situated opposite Ipswich train station, the residential community is expected to comprise a mix of two-bed, three-bed, and four-bed homes which together will provide almost 160,000 sq ft of housing once complete.
Councillor David Ellesmere, leader of Ipswich Borough Council, joined partners at the site for a ground-breaking ceremony to mark the milestone.
With a focus on environmental sustainability, the scheme's design will prioritise green credentials. Homes will utilise air source heat pumps for heating needs, in lieu of gas or electric boilers, and each house will feature electric vehicle (EV) charging infrastructure. In addition, a minimum EPC rating of B is expected for each home. The development will provide onsite commercial accommodation and feature thoughtfully designed public realm, including gardens, outdoor amenity space, new pedestrian river-side pathways, and cycle ways for residents.
This highly sustainable community promises to create a landmark new neighbourhood in Ipswich, enhancing the surrounding environment and providing residents with affordable, well-designed new homes.
Councillor David Ellesmere said: "Ipswich needs more homes to cater for the town's growing population and it's great to see Galliard Homes and Packaged Living answering the call.
"Grafton Way isn't just another housing development; it's a new neighbourhood that will regenerate and breathe life into the waterfront, delivering much needed homes for the people of Ipswich."
Jonathon Ivory, Managing Director of Single-Family Housing at Packaged Living, said: "The ground-breaking represents a significant milestone in the construction of Grafton Way, which will provide high quality rental family homes with a range of amenities and green spaces for residents to enjoy".
Stephen Conway, Executive Chairman and CEO of Galliard Homes, said: "We understand the challenges faced by Ipswich Borough Council to deliver the new homes needed for the town and together with our partners we're proud to be playing our part in helping the council achieve its goals. Grafton will raise the bar for housing on the waterfront. We're delighted to be working with Packaged Living on this exemplar scheme."